Foxconn, known also as Hon Hai Precision Industry Co., Ltd., is among the biggest manufacturers of electronic equipment in the world. The following infographics presents some vital information about this company.
Foxconn is originally a Taiwanese company, but its production bases are spread around the world. It has its facilities in many countries, including China (around 1 mln workers), Brazil, Mexico or Malaysia. Major clients of Foxconn are HP, Nintendo, Microsoft, Google, Apple and Amazon.
The largest factory of Foxconn is located in Longhua, Shenzhen, where more than 230 thousand workers live in their own separated city, with every kind of necessary infrastructure. The company is also the biggest private employer in China. Recently, it started to develop its production base in another growing smartphone market: in Brazil.
https://www.examinechina.com/blog/foxconn/
Let us examine the recent Foxconn Experience in Brazil:
April 13, 2011:
The Taipei-based Taiwanese company, Foxconn, popularly known for being Apple's iPhone and iPad maker, is considering spending around $12 billion over five to six years towards expanding by setting up production facilities in Brazil.
This information, regarding Foxconn's intentions, was released in a statement made by Dilma Rousseff, Brazil's President. If this comes through, Foxconn's expansion move to Brazil would constitute the Taipei-based company's overseas biggest investment.
In addition to Apple, Foxconn currently also manufactures products for other tech giants like HP and Dell.
…
South American Tablet-makers Paradise
"Make South America's biggest economy Brazil a global tablet-production hub" is what the Brazilian Government seems to be thinking, given the tax incentives announced by the Government for tablet-manufacturers.
Aloizio Mercadante, Brazil's Science and Technology Minister said in Beijing that Foxconn's planned facility would go a long way in employment generation, by creating over 100,000 jobs. HE further added that to go ahead with the proposed expansion plans, Foxconn would need state infrastructure guarantees such as energy supply, broadband Internet and access to airports.
…
The tax breaks announced by Brazil for tablet manufacturers are also being put to good use by domestic companies.
According to reports, MXT, a Brazilian electronics producer based in Betim, Minas Gerais, started manufacturing the first Brazil-based tablet in February and is likely to expand production after the tax incentives take effect.
As someone who truly walked the path, Steve Jobs would be pleased to know that his name is being honoured through an avenue that was named after him in the city of Jundiaí, southeast Brazil. The 'Steve Jobs Avenue' (Avenida Steve Jobs, in Portuguese) was first formulated and presented as a bill last October, one day after Jobs' passing, and approved by Jundiaí's city council on March 27.
Previously named after Miguel Moubadda Haddad, a former mayor of Jundiaí, the avenue is one of the routes that connects Jundiaí to São Paulo. It's also the address of Foxconn in Brazil, the Taiwan-owned company with giant assembly facilities in mainland China that supply much of Apple's most popular products. Foxconn already produces iPhones in Jundiaí and they are already planning to soon start making iPads there.
Forbes' Kenneth Rapoza explains why:
Brazil's first place finish is due to its high tax load and import tariffs. When Apple goods are imported, the importer is charged a transaction tax known as ICMS, then social security taxes of around 9%, plus industrial production taxes, and on top of that, import duties. Then there is the famous logistic bottlenecks of shipping iPads and iPhones from the South and south-eastern ports to the cities a few hours away, at least, by truck.
That could change in the future, as the Foxconn subsidiary in Jundiaí is expected to reduce product costs and turn Brazil into a hotspot for exports in Latin America of the Brazilian made Apple devices.
April 26,2012
Factory workers at a Foxconn plant in Jundiaí, Brazil are complaining of overcrowded buses, poor food and a lack of water and have threatened to strike unless the issues are resolved by May 3.

According to a report by Brazil's Tech Guru (Google Translation), over 2,500 Foxconn employees have complained about conditions at the factory. Workers reportedly met last Monday to raise the concerns and have given the company 10 days to address them.
Problems at the factory have been exacerbated by the recent hiring of more than a thousand employees. Foxconn was said not to have increased its transport infrastructure with the new hires. The company reportedly had to hire water trucks to bring in water for its employees.
A representative for the employees was optimistic that an amicable solution could be reached with Foxconn without resorting to a strike.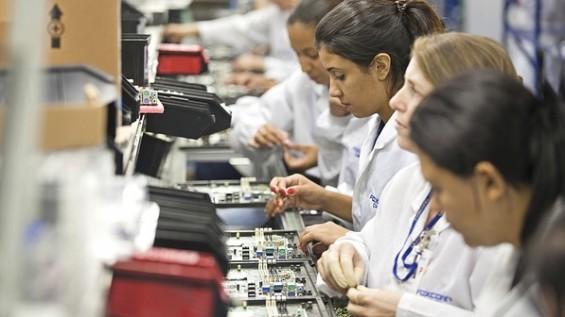 September 20, 2012
MAJOR EMPLOYER:

The company has hired 6,000 Brazilians and plans to raise that to 10,000, and is spurring the development of an electronics manufacturing center

Foxconn Technology Group (富士康科技集團) yesterday said it planned to spend 1 billion reais (US$494 million) to build new factories in Brazil that will be tasked with manufacturing Apple's iPhones and iPads, among other electronic components, making it the group's latest overseas investment.

The announcement came 15 months after group chairman Terry Gou (郭台銘) revealed that Foxconn was in talks with Brazil's government to build factories to make tablet computers.

Gou said the group would collaborate with its clients in search of new growth in emerging markets such as Brazil, Russia and South Africa, which is part of the group's five-year program to spur growth.

With the 1 billion reais investment, Foxconn will open five factories in an industrial park in Itu, a city near Sao Paulo, said Simon Hsing (邢治平), spokesman of Foxconn's flagship company Hon Hai Precision Industry Co Ltd (鴻海精密).

The new facilities are scheduled to crank out their first batch of products in 2014 and are expected to reach full capacity by 2016, Foxconn said, confirming a report by the Agencia Estado news agency on Tuesday.

Foxconn said it also planned to manufacture cables, cameras, touch-sensor glass, LED products, printed-circuit boards (PCBs) and other components.

The investment will create 10,000 jobs, Gou told shareholders, adding that Foxconn had already hired about 6,000 workers in Brazil.

Foxconn now assembles Apple products at a plant in Jundiai and operates four other plants in Sao Paulo and three plants in other states of the Latin American country.

Foxconn's Brazil unit chief executive officer Henry Cheng (鄭家純) is set to sign a memorandum of understanding with Luciano Almeida, president of Investe Sao Paulo, at the Palacio dos Bandeirantes, Hsing said.

Investe Sao Paulo is the gateway for foreign companies that intend to settle their operations in the state of Sao Paulo. Hsing said the technology group would not benefit from special tax incentives from the state government of Sao Paulo.

Gou said in June last year that he was in discussion with the Brazilian government to help the country build a technology center and build an electronics supply chain. He said 14 Taiwanese companies, including Acer Inc (宏碁) and Asustek Computer Inc (華碩), had agreed to join this program.
September 29,2014
Workers at Foxconn's second plant in Jundiaí, Brazil have succeeded in attaining the same salary and career opportunities as employees in the company's other major plant in the city.
The victory came in a deal between Foxconn and the Metalworkers Union of Jundiaí following a five-day strike involving 3,700 workers.
The implementation of the new salary structure will take a year to be finalized, but from September 2014 workers at plant two will get an equal wage to those working in plant one.
Foxconn, a Taiwanese electronics multinational, has also agreed to give the workers full pay for the period of the strike, which ended on 18 September.
Foxconn launched its largest factory in Brazil in Jundiaí in 2007. The site specializes in manufacturing computers, notebooks and motherboards. In 2011, the company opened its second production unit in the same city, which is the only facility outside China to assemble iphones and ipads for Apple.
April 13, 2015
Taiwanese contract manufacturer Foxconn, one of Apple's closest partners, is under fire in Brazil as officials in the South American nation are displeased with the company's slow rate of progress on what was initially sold as a major investment to modernize the Brazilian manufacturing industry.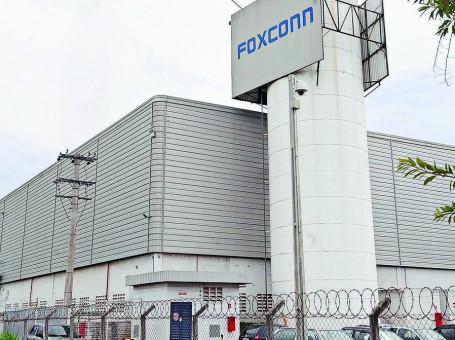 Foxconn's Jundiai, Brazil manufacturing plant
While some believed that Foxconn's 2011 expansion to Brazil would bring as many as 100,000 jobs and $12 billion in capital investment, the company currently has fewer than 10,000 employees in its 5 Brazilian factories, according to Reuters. One of those facilities is reportedly dedicated to production of Apple's iPhone 5s.Despite a public commitment to invest at least $325 million in a new industrial park in Itu, outside of São Paulo, the site is not yet operational, though Foxconn did say it should come online by the end of 2015. The lack of headway has been cause for consternation among city officials.
"People are really frustrated," Itu city councilor Givanildo Soares da Silva said. "We were expecting all these jobs by now and it's still just empty promises."
Of the jobs that Foxconn has brought, many pay little more than minimum wage. Acceptance testers at the Brazilian iPhone plant, for example, bring home just $80 per week and lack access to the same training and advancement opportunities that their counterparts in Foxconn's Chinese facilities receive.
Workers have held at least three strikes at the iPhone factory, and a union representative said they were planning another. Such labor flare-ups have angered Foxconn founder Terry Guo, who infamously slammed Brazilian labor in 2010.
And…
When Taiwan's Foxconn Technology Group agreed in April 2011 to make Apple products here, President Dilma Rousseff and her advisers promised that up to $12 billion in investments over six years would transform the Brazilian technology sector, putting it on the cutting edge of touch screen development. A new supply chain would be created, generating high-quality jobs and bringing down prices of the coveted gadgets.
Four years later, none of that has come true.
Foxconn has created only a small fraction of the 100,000 jobs that the government projected, and most of the work is in low-skill assembly. There is little sign that it has catalyzed Brazil's technology sector or created much of a local supply chain.
The iPhones now rolling off an assembly line near São Paulo, the only ones in the world made outside China, carry a retail price tag of nearly $1,000 for a 32-gigabyte iPhone 5S without a contract – among the highest prices in the world and about twice what they sell for in the U.S.
That Brazil has so little to show for the Foxconn investment underscores the shortcomings of its industrial policy, defined by costly tax incentives that have driven a widening government budget deficit without spurring growth. The economy currently hovers close to recession and the productivity of Brazil's workforce is stagnant.
June 22, 2017
The firm appears to be giving up on the country following promises of $12bn investment.
Foxconn is set to cease its manufacturing activities in Brazil, according to sources close to the Taiwanese company.
The company's staff have been working on shutting down the facility located in Jundiaí, a city in the metropolitan region of São Paulo, and assisting on the deactivation and sale of machinery, according to Brazilian business magazine IstoÉDinheiro.
Foxconn had a second facility in the same business park, which is already empty. The idea is to only keep a limited local set-up intended for parts replacement and maintenance, according to the article.
The news Foxconn is stopping its manufacturing activities in Brazil is a far cry from all the noise the firm caused a few years ago: back in 2011, the company had pledged to invest $12bn in the country and create 100,000 local jobs within six years.
AND
Back in 2011, Foxconn promised to create 100,000 jobs in Brazil within six years, also pledging to invest no less than $12 billion in the country. However, the company also required 30 percent of that sum from the Brazilian government, and to bring in a private investor as well. Sadly, both failed to materialize, and now Foxconn is close to shutting down its manufacturing facilities in Brazil for good.
According to the local press, the facility located in Jundiai is shutting down, and the machinery is being deactivated and sold. Another Foxconn facility in the area is already empty, and it seems that Foxconn will only keep a small set-up for parts replacement and maintenance.
When contacted by ZDNet, Foxconn declined to comment. However, insiders familiar with the matter confirmed that Foxconn is getting ready to shut down all its manufacturing operations in Brazil. On the other hand, they told the local press they have no plans to downsize.
2017
Foxconn CEO Terry Gou and President Trump recently announced a plan to bring 3,000 jobs to Wisconsin at what appears to be a flat screen manufacturing plant.
The political press ate it up, alternatively excoriating the program for costing too much in tax breaks and crowing a win for Wisconsin's conservative governor, Scott Walker.I wouldn't encourage either party to hold their breath.
Gou is in the habit of promising big and rarely delivering. Four years ago business journals crowed about a plan to bring a Foxconn flat screen manufacturing plant to Pennsylvania in 2013. The result? Foxconn opened an empty office in Harrisburg and nothing further has been done.
This behavior is not new. Foxconn has signed letters promising to build factories in Indonesia (2013), Vietnam (2007), and Brazil (2011). None of these were completed according to the original pie-in-the-sky spec. Reuters had this to say about the Brazil adventure:
When Taiwan's Foxconn Technology Group agreed in April 2011 to make Apple products here, President Dilma Rousseff and her advisers promised that up to $12 billion in investments over six years would transform the Brazilian technology sector, putting it on the cutting edge of touch screen development. A new supply chain would be created, generating high-quality jobs and bringing down prices of the coveted gadgets.
Four years later, none of that has come true.
Foxconn has created only a small fraction of the 100,000 jobs that the government projected, and most of the work is in low-skill assembly. There is little sign that it has catalyzed Brazil's technology sector or created much of a local supply chain.
The current Wisconsin deal involves a $10 billion investment by Foxconn and a planned tax abatement of "$200 million to $250 million a year for up to 15 years." This amounts to a taxpayer cost of $230,000 per worker – if Foxconn keeps hiring.
Trump, for his part, is as optimistic as he was when he tried – and failed – to save jobs at Carrier.
"I'd see Terry and say, 'You've got to give us one of these massive places," he said. "If I didn't get elected, he definitely wouldn't be spending $10 billion."
But politics isn't a business. Foxconn is in the business of making and shipping products from its massive factories in China. It is not in the business of helping beleaguered economies. End of story. They are more than happy to explore employee investment, robotic assembly lines, and amazing manufacturing techniques in Shenzhen and will pay lip service – but never really come through – on expansion if it suits the company politically. I realize this is a cynical view especially when there are midwestern jobs on the line, but it's something that Wisconsin and Walker will need to face.
It makes no economic sense to build massive factories in Wisconsin if the export taxes and other assorted costs are wildly higher in the U.S. than they are in China, further, rural Wisconsin would never be able to support anything like the 200,000 employees housed at some Foxconn facilities. Finally, human manufacturing is shrinking while the use of industrial robots is rising. This means you could run a massive factory with fewer workers and each of those workers would need a higher education to manage the intricacies of a robotic assembly line. None of this is addressed in the proposal and I suspect, soon, it won't really matter.
"It's not a promise. It's a wish," said Gou in January when the idea of a US factory was first floated. I worry that this announcement, too, is a "wish." Either way, Foxconn – and not the state – wins.
October 20, 2018
From The Progressive: An illustrated journey into the dark heart of a really bad deal.
This piece will appear in print in the next issue of World War 3 illustrated magazine, NOW is the time of MONSTERS: A graphic discourse on predatory capitalism, available November from AK Press.
666
Otis Redding performs the aptly named song  Shama Lama Ding Dong – for the Tools and Fools who govern SE WI. PARTY ON! MTP President David DeGoof!
666
Hey – SE WI! You've been Fox-Scammed!